Springtime: Nature's celebration of Bunnies, Eggs, Shamrocks, and Salad Greens! That's right, my kitchen witches, today I am going to inspire you to make a salad right out of your own backyard. It's going to pump you full of energy, nourish every molecule in your body, and even heal some of those pesky health problems that winter has exacerbated. If you eat some every day, you're going to be looking oh-so-svelte in your bikini come June!

If we lived in an old-fashioned agrarian society, by this time of year we would have nearly exhausted our reserves of root vegetables and squashes, dried fruits and meats, and pickled and canned goods. Even in a modern world where you can get organic mangos in January, the delight of tender spring greens is undeniable. As the days lengthen and the snow melts, Chickweed, Violets, Miners Lettuce and Dandelion greens suddenly pop up everywhere.

Let's take a tour of the new green edibles all around us, and find out how delicious our medicine can be…






Chickweed (stellaria media) is a sweet little plant, one of my favorite wild greens to introduce to friends. Once you learn to identify her, you'll start to see her everywhere! She hangs around wherever it is cool and damp, even well into the summer if she is right on the Pacific coast. She has a delicious, somewhat salty taste that everyone seems to love. The only problem is that you may be tempted to eat all of your harvest before you get home!

Medicinally, Chickweed is a cool character, known for taking the heat out of inflamed lungs stomachs, and skin. Think of her when anything is hot, swollen, and dry, and eat her regularly for help with swollen glands, urinary system irritation, eczema, and allergies.

Chickweed is famous for her steroidal saponins, which dissolve thickened cell walls and membranes in a soap-like fashion. These saponins may be where chickweed got her reputation as a weight-loss aid—you can find her, dried, in many herbal weight-loss formulas.

Whether or not you are looking to shed pounds, there is usually some part of the body that needs dissolving: warts, cysts (even ovarian ones), bacterial cell walls, or persistant bad attitudes. Science doesn't know what to make of it, but for some reason Chickweed eaters seem to smile more often...

You can also use Chickweed externally as a poultice—she will soothe any body part that is infected and hot, with a special affinity for the eyes.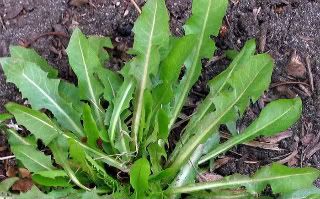 Dandelion's name comes from the French, dents de lyon, or "the lion's teeth". This refers to her serrated edges, and how appropriate that her name should come from a nation of gastronomes, since dandelion is a true Queen of the greens! She has a long growing season (she never seems to stop for a minute in temperate areas!) but her leaves are most delicate and delicious now, in early spring.

The first thing you will notice about Lady Dandelion is her strong flavor. We Americans tend to have simple palettes, enjoying sweet and salty flavors to the exclusion of most others (except for the occasional Sourball!), but cultivating a taste for bitters serves us well in many ways. The moment dandelion reaches your mouth, she gets all the juices flowing in your digestive tract, improving digestion and nutrient assimilation. She doesn't stop there, though—she gets your liver moving, along with your lymph and your circulatory systems. In other words, what better Springtime friend to help you get up off the couch, put the videos away, and start belly-dancing with wreaths of blossoms in your hair?

For those with congestion and fluid swelling, Dandelion is a safe ally. Unlike other diuretics that may over-flush the body and cause stress to the kidneys, Dandelion actually feeds the whole system with potassium and sodium as she does her work.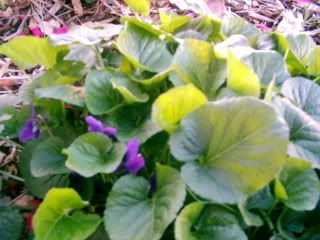 Here is sweet little Violet! Everyone loves her, but not everyone realizes that you can actually eat her. Throw her leaves and flowers into your salad and you will be adding health and vitality to your meal, along with some charming spring color. You can use any of the varieties of viola from the nursery (as long as they are pesticide-free, of course), or the delicate wild violets in the wood. This time of year, her heart-shaped leaves are unfurling everywhere you look!

Violet is a fabulous food because of her pleasant taste and high vitamin and mineral content (she is especially high in ascorbic acid and Vitamin A), and she has also been known as a medicine since the beginning of written history. Cool, nutritive violet leaves support the immune, digestive, reproductive, and respiratory systems. Her fame with the ladies is legendary-- she is used internally and externally for all manner of breast distress, from mastitis to fibroids to pre-menstrual swelling and tenderness. The shape of her leaves reminds us to keep violet close to our hearts...






Miner's lettuce was one of the first wild edibles I ever learned. My second-grade class went on a spring field trip to the hills of Sunol for a nature study, and I can still picture the dew-kissed hollow in the hills where we knelt to pick our wild harvest. I was amazed to discover that food that could grow so spontaneously, with no one tending it but the sun and the rain. I was recently in Golden Gate Park in San Francisco, and the same excitement came over me to find meadow upon meadow of Miner's Lettuce and Chickweed. With such green abundance, no one need ever go hungry, even in the middle of the city!

The Miner 49ers of California gave this juicy green her name. In the days when fresh produce was only occasionally available, they relied on this wild "lettuce" to get their Vitamin C and prevent scurvy.

She is so sweet and delicious that even children fall in love with her—as I can attest myself!-- and her distinctive round leaf is hard to mix up with anything poisonous. She most resembles Nasturtium, another edible green, but she lacks her spice.

******************************************

I have usually grazed my way through half of my harvest by the time I make it back to the kitchen, and so I often bulk up my salad with some store-bought lettuce and dandelion greens.






If you have a few extra minutes, you can some simple touches for enhanced taste and texture, and whip up an easy homemade dressing.

If you ask me, fresh-toasted seeds are a must for the texture of a good salad. It is much better to buy seeds and nuts raw and toast them yourself, both because the flavor is better and because pre-toasting causes the oils in the seeds go rancid more quickly. Sesame and pumpkin seeds are cheap and yummy, with health benefits of their own. Best of all, they are super crunchy!

Since the sesame seeds cook much faster then the pumpkin seeds, I toast them separately. By the way, you don't want any hulls on your sesame seeds, because the protective hulls cause them to pass through your system untouched! Look for raw, unhulled sesame seeds. High in calcium and protein, these tiny seeds are a powerhouse of nutrition. I like to toast them on the stovetop just like this:






Watch that the heat is very low:






When they start to turn slightly brown and crackle, they are done! Watch them carefully and stir them around every few minutes. If you chronically burn things in the kitchen, try an alternative method: put them in a pan in the toaster oven and set the toast level to low.


******************************************************************

Pumpkin seeds are a top food choice for prostate health, so if you love the man in your life, heap them on liberally. As soon as they start to puff up with hot air, they are done. If you've overdone them, they will shoot out of the pan like popcorn!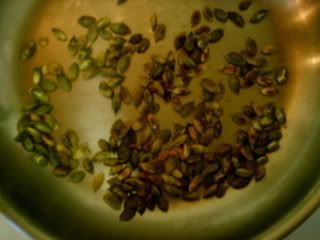 Everyone knows the saying, "an apple a day keeps the
doctor away"—and now science backs it up. In a recent study on asthma, and apple a day cut asthma attacks by fifty percent! We are lucky to have so many organic varieties available year-round, so whether you like them tart or sweet, you have no excuse for conflagrating with that doctor. I love them in salad for their taste and texture. My favorite way to serve them is in very thin slices—a regular old vegetable peeler does the job.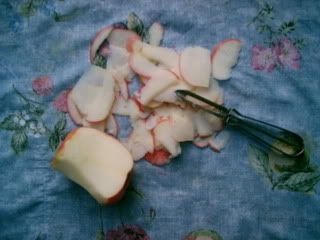 Carrots, like all orange foods, are full of Beta Carotene (which is metabolized into Vitamin A), a real booster to the immune system during flu season and especially healing to the tissues of the respiratory tract. It helps, of course, that carrots are a sweet, delicious, and universally appealing food. I vastly prefer bunches of thin, sweet carrots (the kind sold with their tops on) to the larger, starchier specimens, especially when they will be served raw. I put that peeler to good use again and turn them into lovely, long, paper-thin strips!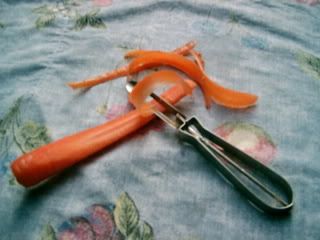 I used to be a die-hard devotee of pre-made dressings like Annies Goddess, until a foodie friend of mine showed me how easy it is to make a delicious dressing from scratch. You can get more complicated if you want, but what really knocks 'em dead is a simple combo of lemons (Meyers if you can get them!) and olive oil.

Lemons are said to be extremely alkalizing to the body, and they are super high in Vitamin C. People who love to do cleanses swear by this tarty little fruit!






For those of us who grew up in the fat-phobic nineties, using a generous hand with oils may not be second nature. Trends have changed, however, and Americans are embracing "good" fats for good reason—the benefits of lubrication include softer skin and hair, better joint mobility, mood stabilization, and increased fertility.

Get a good organic, virgin olive oil—there is often one on sale at the health food store for around twelve bucks. Quality really does count here; greener is better, and gives your taste buds an enjoyable, hint-of-olive, earthy experience.





Here's that dressing coming together: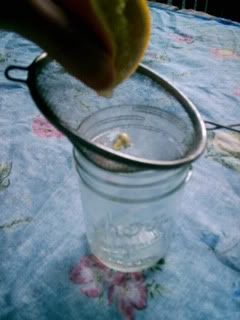 Toss it in a bowl, mix it all around, and Voila! it's magic!






Just be forewarned: even if your friends and family don't give a flying fig about nutritional values or steroidal saponins, they're going to be asking you to bring the salad to the potluck for the next twenty years!


Have fun eating your greens!