Whew! What a whirlwind it's been. Spring is HERE and everything just seems to move faster. I am always so thankful that I have the plants to slow me down-- in fact, to make me get on my hands and knees and even dig in the dirt. If everyone could spend an hour in the dirt every day, we'd be a happier world, I'm sure!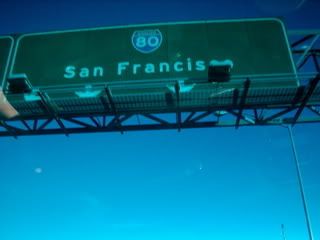 So last weekend I drove down to San Francisco to play a show with my girlfriends-- and I mean, ALL my girlfriends! My backing band was all girls, the three other bands playing were all girls, the place was packed with women-- it was awesome! It was also a big weekend, I had to do the drive alone, haul tons of gear, and of course stay up having fun til the wee hours of the morning and then proceed to function on minimal sleep. On top of all that, I have to admit that I was really nervous about how it would all come off, since I was the one who had put together the show and everyone was expecting something Magic.



Sasha and the Shamrocks: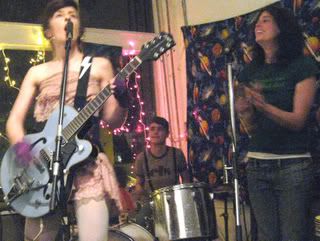 Excuses For Skipping: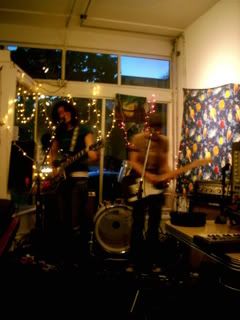 Uni and Her Ukulele:
Corinney and the Meanies:
It was an absolutely charmed evening, and I can't take credit for that, but I can tell you what I did to tip the scales in my favor.



Such an adventure, while well worth it, is a heck of a strain on the nervous system and adrenals, and those are my weaker points. The person that functions best in the world of rock and roll is the one who can eat beer for breakfast and pizza the rest of the day-- the "cockroach" constitution, a la Keith Richards:


I am not a hothouse flower by any means, but I am extremely zealous about life and emotionally sensitive, which means that I can burn out quickly. I knew this this trip would be a challenge for me because of the number of "unknowns": I'd be meeting tons of new people, sleeping in new places, and playing with a brand new band who had little time to practice.



So, taking this into consideration, what did I do to make the trip go smoothly? (Feel free to call me a Girl Scout at this point. I'm well aware that I'm the only one of my friends with a pocket knife and TWO flashlights on my key chain.) First of all, I framed the whole trip as "art", and took tons of pictures so I could blog about it on my music site. Knowing that the process itself was art made me much less nervous about the show itself. Next, I was very careful about what I ate; in fact, I was careful for a few days prior to the trip. I needed a lot of energy and focus, but didn't want any caffeine nerves. Heavy meals just weren't gonna cut the mustard, so I focused on veggies and vegetable juices. (Store-bought isn't nearly as good as homemade, but it will do in a pinch.) The veggies did me so right that I used a carrot as my hair decoration on stage! (A girl must have her mascot.)



The whole trip, I did frequent squirts of a tincture I'd made special just for the trip, combining Vitex (for hormone balancing-- see my previous post about Vitex for more info); Skullcap (for nourishing the nervous system, and especially for helping you to see the "big picture" instead of getting obsessed with details); Eleuthero (formerly known as Siberian Ginseng-- it's an excellent "adaptogen", which means that it helps your body "adapt" to stress and rise to challenges without depleting your core); some drops of Rescue Remedy (The Bach Flower Essence for keeping the spirit calm in times of acute stress); and lastly, Oats. Speaking of which! Beautiful Oats.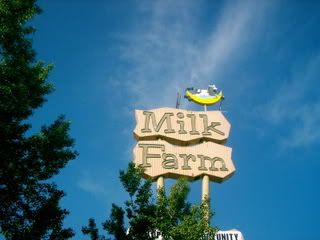 When I pulled my car off the I-80 to take a picture of the wonderful Milk Farm sign (for art's sake, of course!), I ended up tromping through a knee-high field of perfectly ripe Oats. You know they're ready when you squeeze their heads milk comes out, and these were as milky as could be. You use these ripe tops to make medicine, and I would have gathered a bushel if I wasn't standing ten feet from one of the busiest highways in the U.S.A. Ah well, I could soak in their beauty at least! Oats are an unbeatable tonic for the nerves, and they taste lovely in tincture form, which I can't say of every plant. And on that Oat Note, yes, in fact, eating Oatmeal also has a calming effect on the nervous system, too, and nourishes the adrenals. You know the expression "feeling your oats"? Healthy nerves and adrenals make for frisky, happy people. Maude-- from wonderful film Harold and Maude-- credits Oats for her "spunk"!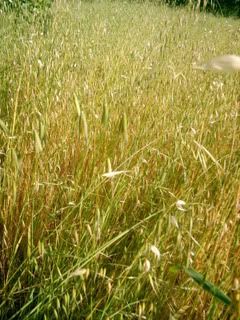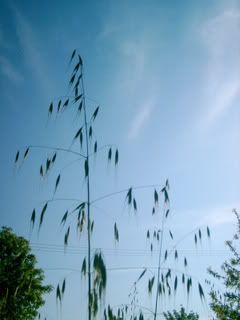 Here's my tincture, my Automobile Goddess, and to the right a little jar of a "meditation balm". I brought this at the last minute as an experiment, honestly, it was just one of those things sitting in the bathroom cabinet forever. I always keep lavender essential oil in my purse, but when I got bored of driving, the lavender just made me want to go to sleep. This meditation balm, however-- despite the calming name-- actually woke me up and made me feel groovy and flirty. Maybe it was the sandlewood or myrrh, which are very "earthy". Planet Earth was exactly where I wanted to be (especially when piloting a car on the Freeway!), so it worked out great!


I drank tons of water the whole weekend, and of course laughed at everything (especially myself). I am still human, and I admit that I had a little meltdown a few hours before the show, but I managed to bounce back instead of sinking into negative thinking, and for that I will gladly credit my preventative maneuvers.



Whether you are rock n' rolling or working like heck on your garden, Spring is a time of long days and high energy output, so I hope this can be an inspiration to you: take care, prepare, and EAT YOUR CARROTS! This stuff really works.