Tis the season-- Dandelion Dandelion, everywhere you look! I think they really compliment the token Abandoned VW in our backyard...


So I'm just dropping in from Planet Dandelion to share the Recipe of the Moment with you... Dandelion greens and flowers, lightly satueed in olive oil and lemon juice, on a sprouted tortilla slathered in goat cheese! Oh wait, I'll show you...



Dandelion in her natural state: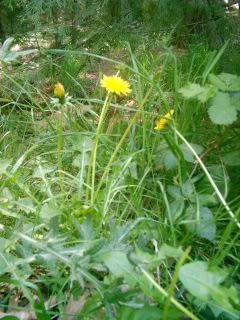 After a few minutes of work harvesting the leaves:


Putting some flower heads aside to wilt a little so that they can lose their moisture before I put them in oil to soak for a few weeks (I'm making a massage oil)-- the flowers are supposed to be great for muscle tension and depression. Although who can be depressed with this weather I couldn't tell you! Maybe I can save it for, like, mid-February...


Some of those flower heads hit the pan first, in a little olive oil. I am watching these closely with the heat on LOW cause they are precious and don't need much cooking!


Then the leaves, for just a minute in the pan with some lemon juice, til they're wilty:


And yes I WILL take this to the Next Level thank you: goat cheese, getting just a lil' melty on this sprouted tortilla: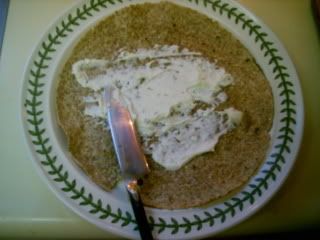 Slap those dandelion leaves and flowers in the middle and you are living the high life on the Cheap, my friends. I mean, this is the kind of thing they eat on yachts. And you can even find that goat cheese at the Rainbow Grocery Outlet for a steal-- Nevada County, you hear me there!



Hope I made you good and hungry! For more detailed info on the medicinal benefits of Dandelion Greens, see my post about them here. And happy eating!