Well holy moley-- it's been a while, ya'll! So many people have told me in the past few weeks how much they enjoy my blog... but for one reason or another I couldn't make time to catch up with my writing til now. The main reason being utter exhaustion-- I WAY overdid it during May! I remember several of my herbal teachers (Kami McBride and Candis Cantin-Packard especially!) warning of the temptation to over-exert in the Spring-- after all, we can barely help ourselves after a long winter cramped indoors and stuffed inside heavy coats-- the sensation of sunshine on bare arms and a warm breeze in your hair is enough to tempt the wisest soul to Overbook. And so, utterly human, I did!

Last weekend was my first weekend at home in almost a month, and I had my Moon on top of that-- ah, yes, our Moons, time to cash that check that we've been writing all month. Mine played out in a sensation of utter gravity-- the complete opposite of the preceding four weeks, which had seen me flying around the state of California weightless as an astronaut. All things must return to the earth and so I did, lying on the couch, heavy as a boulder sinking to the bottom of a lake. My Most Psychic Friend, Terese, came to visit me in a dream in which she diagnosed me with "adrenal burnout", and so I listened up and said NO to everything for a few days-- including nurturing my "online presence"!

Today I woke up refreshed, ready to take on the world again, though tempered by this reminder of my limits. I will at least take on this blog, which I must warn you right now, will be the longest one I have ever written! I have so much to tell!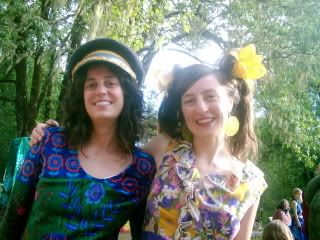 That's me and Linda as the Sunday night ceremony begins at the Northern California Women's Herbal Symposium. If you were wondering if I had a good time, just one look at our faces will tell you. Oh girls, I had an amazing adventure, full of love and epiphanies and deep knowledge! I knew I'd be blogging about my weekend for all of you, but in fact i am overwhelmed about where to even START. Hopefully those if you reading this out of state have something similar in your area that you like to go to.. or will dare to go to... a magic place created by women and for women where you can go to learn not just book knowledge but about life and time and what is real.




To start with the basics, well, it's a camp-- tents (or teepees) on the ground, which is not so comfortable when it pours rain, as it did our first day-- and the irony, it was a rain that broke a two-month drought! We needed it so much, but it took me totally out of my comfort zone. But the glory of Sunday morning when that sun came out.. never was it more appreciated.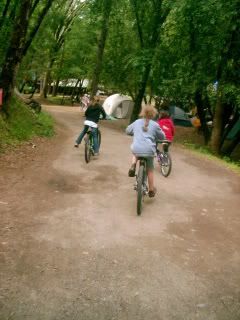 So, like at any camp, there are kids (and kids at heart) running around laughing and hula hooping and playing games and making new friends, you get fed three times a day, there is a talent show and wacky songs around the campfire, and during the day of course there are classes, like this one about "The Unconscious Messages of Plants" by Linda Emashowski: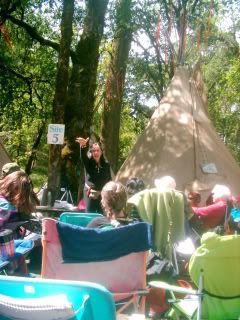 ...or "Aphrodite's Boudoir" by Rabbit:




This was a class all about, well, amour, and Rabbit passed around a "love cordial" and got the class VERY steamed up-- I don't know when I've ever heard so much giggling!!! I wish I could have a class by Rabbit EVERY day!




This is my friend Amanda Lyon teaching us about "Marma Facial: Ayurvedic Energy Points for Radiant Skin and Emotional Balance". I know Amanda actually has both radiant skin and emotional balance, so I had to take this one and learn her tricks. We each did full six-step facial on each other... it was so relaxing, it makes me sleepy just thinking about it... mmmm.....




If all this isn't girly enough, on Sunday there is a three hour Marketplace where gals pull out their handmade goodies and sell and barter. It's basically the mall of your dreams: you've got your bloomers stall, your seaweed vendor, your handcrafted fairy teacup stand... Here's my friend Nacoa selling her homemade cordials-- the hit of the weekend, I assure you!




Me and Linda showing off our swanky new dresses:




The heart of Symposium, however, lies in the Sunday night Ceremony. This is a time to bless ourselves and honor ourselves as the women that we are and the women that we are continually becoming. We sing a very special song about our love and beauty, and walk under a bridge made of each others arms: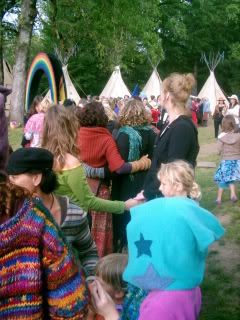 These are the Crones with their magic broomsticks (yes, really) at the very end:




Part of the ceremony involves calling forth the young girls who have started their first Moon and have decided to go through the very serious and very public ritual of leaving their "maiden time" behind. I want to cry just thinking about this; it is one of the most profoundly moving things I have ever experienced. The "maidens" are so palpably on the cusp of two worlds; so gawky, so shy, and so child-like; yet at the same time brimming with a powerful lioness-like energy that demands unwavering respect. Standing in the larger circle as they go through their ceremony, I see the looks on the younger girls faces and hear their whispered comments: they are in awe of the Maidens, these powerful girls who are holding the complete attention of 300 adults. They know that one day they will be in the center of this circle, and at 8 and 10 years old they already connect a woman's Moontime with this special power and magic. So many of us did not have an experience even remotely like this one, to say the least! I do grieve for the little girl in me who went so far as to hide her first blood, feeling only shame and confusion at its arrival-- nothing can change the whole screwed-up, Irish Catholic way that I bumbled into womanhood!-- but to see this wrong so completely and utterly righted is deeply healing. Don't believe what they tell you-- those darn hippies did change the world!

The Maidens, of course, represent but one part of the cycle of a woman's life. In the middle, we are Mothers-- Mothers to children, to friends, to creative endeavors, social causes, Mothers to the World-- and then there is a time when this, too, shifts.

The word "Crone" has been reclaimed from the trash-heap of insults and is now used as a term of respect for a woman who is past the time of her Bloods. And there is a ceremony to honor the Crones, as well-- as you would expect, it's slightly rowdier, bawdier, and involves a goblet of Magic Brew. Here they are, out Grandmothers, honoring one of the eldest among them as she performs a dance to bless us all (yes, she IS at least 80 years old and yes she IS dancing her heart out!):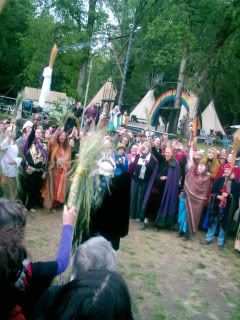 It all ends with "Merry Meet, and Merry Part, and Merry Meet Again..." and a swirl of dancing colors at twilight. Even if you couldn't be there, I feel that you can still understand the spirit of the thing: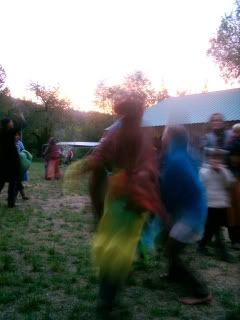 It was the shortest and yet the longest three and a half days of the year: I came back feeling as if I'd been on another planet (Venus?) and had that return-from-a-long-trip urge to re-evaluate my whole life path. Of course I am leaving out so much here... but I hope you can read between the lines a little. That's where the real Magic can be found, after all...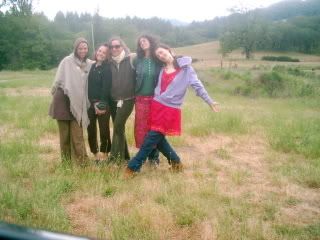 That's me and my gang. We're a pretty spunky bunch, ain't we? I'll tell you what, I decided that I love myself so much that I deserve to go back for the last session on Labor Day weekend. I'll scrape the money together from somewhere! Meanwhile, all of us are back in our regular lives, living them a little more fully for the time we spent together at Witch Camp. Hope you all can join me then!!!