Ahh yes, a typical Summer evening in Frog Holler... and Summer is really here! I know it's not technical until tomorrow, but last weekend it just sort of... came on/ descended /flipped over /arrived. There was no question, the feeling in the air just changed.

Now I'm no fan of blistering sun-- and Grass Valley does blistering sun like nobody's business-- but I like what happens as a result of a scorching day: yes, the Balmy Night! Today the Yahoo weather report said "Low of 70 degrees" (LOW???) and something deep inside of me that had been clenched up tight since that first icy breeze in October just released and went... ahhhhhhhhhh. I promptly bought (yet another) bag of organic Bing cherries, intending to enjoy an all-fruit "dinner"...after all, now that we all know now that dark red and purple fruits are unbeatable for maintaining vascular integrity (that's happy hearts and veins, ya'll) there's no excuse not to gorge! Life-- and summer-- is too short, it seems, so I'm gonna eat cherries while I can.

A typical scene: tall grass, daisies, a swamp cooler, and a hose:


While we're outside, let me boast for a little while about This Year's Garden. Now I know it may look like a big mess of weeds to some people, but hang on and let me explain!:

When we moved into our rental, the only thing the gully behind our house had going for it was Potential. We had to drag out blackberry vines, rusty bedsprings, and heaps of mysterious country trash just to reveal the humble little stream whose only foliage was a few wild rushes. Over the years I bought some herbs to plant when I had the dough, but since I was mostly flat broke I learned the art of "transplanting" plants from the surrounding area. (I remember one particular afternoon when I'd climbed through a hole in a barbed wire fence and was knee-deep in mud, tugging for all I was worth at the roots of these irresistible wild yellow stream irises... In my defense, they were in a stream at the edge of a 100 acre property, and there were thousands of them-- no one even knew they existed!) Well, now finally my work has paid off, and this year it's a real garden-- so lush, in fact, that now it actually needs a manicure! Look at the stream now-- chock full of mint and horsetail and watercress!: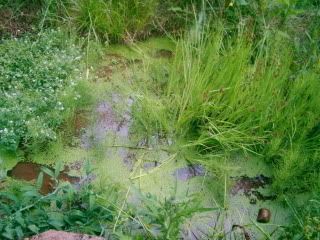 Now let's get up close and personal: first off, the Self- Heal, just beginning to flower. This grows wild all over Nevada County- I didn't have to "import" it from anywhere! The local Flower Essence Society has embraced the Self-Heal flower as a sort of spiritual-balm-for-all-occasions, which is consistent with the experience of my teacher Karyn Sanders at the Blue Otter School of Herbal Medicine, who humorously compared this little plant to "duct tape"!!! Medicinally, it covers territory from alleviating laryngitis to strengthening the kidneys. Frankly, my relationship with Self-Heal has been thus far limited to salves, where it's a great skin healer! Maybe I will branch out (har dee har har, is that a plant joke???) this year.


Speaking of salves, here's the number one topical cell-knitter, Comfrey. Miraculously, the deer haven't found her yet this year. Last year, a deer with obvious structural deformities came and ate her all up-- not that I could begrudge the deer for eating good medicine, especially since this is the plant that it clearly needed the most! Some humans do take Comfrey internally, but that's a huge controversy (involving potentially toxic alkaloids) which I am not prepared to address here. Let's just say there are strong feelings an both sides, and you can research it in depth if you are interested; meanwhile, use Comfrey freely as a poultice on superficial wounds or as an ingredient in skin care products-- she makes your cells "knit" together faster and stronger!


Well, it's almost St. John's Day, yet another Catholic holiday built on the foundations of our pagan past. (Those clever Catholics, they even transmuted the Summer Solstice!) And this is the official plant of the Solstice, St. John's Wort! ("Wort"= "herb", by the way.) It's a very famous little flowers these days, as it is one of the most widely used herbs in the U.S. If you haven't heard yet, St. John's Wort can be used to treat mild depression and seasonal affective disorder (aka the winter blues). People in Portland and Seattle, perk your ears up! This sunny flower, which blooms at summer solstice, can be an ally for you! And if Newsweek or some other such unreliable source is disputing it's effectiveness, take it from me-- nothing is gonna work for everyone, but a high quality St. John's tincture or capsule in sufficient quantity is just the ticket for a LOT of folks.


My Mulleins are actually going to win a prize. They came with the place, so I can't take credit, but aren't they just so perfectly soft and lovely and Dr. Suess-y? And a supreme lung tonic, most effective with long-term use. Those crazy weeds!


Thinking about growing a flower stalk...


...And doing it! These little yellow flowers, incidentally, are used in combination with garlic as an ear oil for relieving ear ache and removing wax build up. I confess to being very lucky in the ear department, I haven't had to use this remedy, but it is incredibly popular with the Earth Mammas of Nevada County.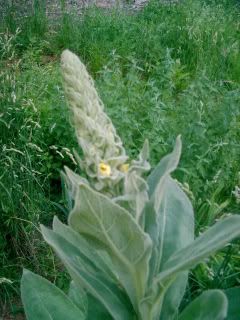 Here's our friend poke, just growing along merrily here. Poke root is used-- with extreme caution-- for blocked lymph nodes. I don't have any problem taking a drop or two, and even use it as an aid to going into trance when I want to do creative writing, but I wouldn't recommend it to anyone I don't know well, anyone with serious lymph issues, or anyone who is a puker! If any of you nursing mothers know my friend Amber Magnolia (or want to! She's super friendly!) you can ask her about its use in mastitis (inflamed milk ducts).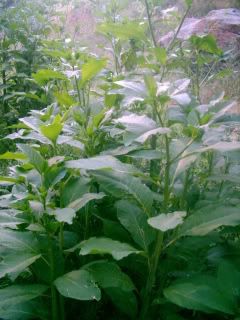 Do you ever have to ask yourself, "did I really plant that???" Somehow I forgot that this Motherwort made her way into my garden! But those gorgeous purple flowers at the base of the leaves sure called my attention today. Motherwort is a favorite of the Menopausal Woman with hot flashes and night sweats. She's also a great heart tonic, especially for those who get heart palpitations from tension-- her Latin name, Leonurus cardiaca, means "lion-hearted"! I am excited to harvest her this week and make her into a tincture, maybe with some Hawthorne and a nervine. I have just the person in mind who could use her... lucky thing she "snuck" into my life!


I spied this little flower on a walk last year around this time. She was hanging out with her sisters waaaaay at the top of an embankment. I gingerly dug up one of the family, and I was rewarded this year with these incomparable purple cups! I'm not a big flower key person, so I don't know her name, but she is adding so much to the garden with her beauty.


And while we're on the subject of beauty... is there no limit to my love for Lavender? I love her everywhere... and all the time. Sprayed on my skin, sprayed in every room, in the bath, in the car, at work, in my hair, on my friends, on my enemies, and peeking out between every grass blade in the garden!


In truth I don't remember where this Catnip came from-- but I do recall that it was scrawny, a bit worse for the wear, and I didn't have too much confidence in its future. Now, within a season, I have a whole Catnip PATCH! Maybe I'll dry some and test it out on my cats-- they didn't respond at all to it when they were 6 months old, but I hear sometimes they need to be full-grown to really get loopy. Another use of Catnip is as a tea for children-- apparently it works wonders at calming down those hyper tykes. I imagine it would be great in combination with California Poppy... As toddlers are coming into my life more and more often, I might want to dry some of this and keep it around!


I was gifted a whole bunch of Yarrow from a friend's garden, and this is the first time I've actually grown her. I am so happy that she is here, and thriving! Yarrow is another "general balm"-- what other plant can stop or promote bleeding depending on what the individual's body needs? She's good for fighting colds and flu, stopping nosebleeds, and toning the uterus; magically speaking, she is used for creating boundaries and ensuring protection. In China, her stalks were the traditional divining tools used in the I Ching! Her Latin name is Achillea millefolium, which refers to Achilles, the Greek hero supposedly baptized in a bath of Yarrow. So what's up with that famous weak heel? Well, come to find out that Achilles was held onto by the ankle when he was dipped into the protective Yarrow bath, and so that part of his body never touched the magic water! What luck!



I planted Yarrow at the edge of the stream because I consider that the energetic "edge of the garden"... I also hoped it would offer some "spiritual protection" from the deer! So far so good!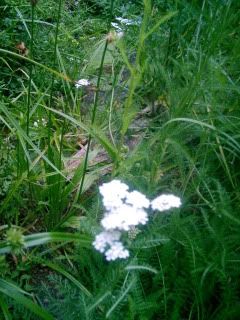 So much has changed in this little corner of the world. The only insects that used to call the stream side home were the crickets-- I guess they're not very particular! Now I see new insects and arachnids every time I am down there-- there must be a hundred different kinds, including this beauty from tonight, a blue-black moth... hard to see here since I don't have a macro lens (yet!) but you get the idea:


Here's my cat ZouZou, who thinks he's a monkey: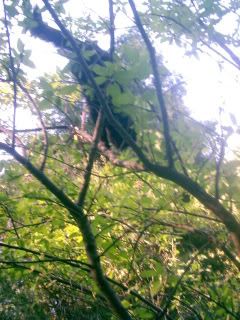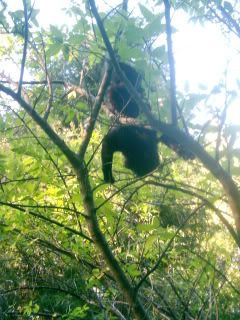 Over in the woods, I planted some nettles from my old garden, and they finally took off this year! I feel my work here is done-- spreading Nettles throughout the land! It's a little pricklier than Johnny Appleseed's job, but I'll take it! See my post about Nettles here.


Here's the Hops my neighbor gave us, racing up the posts to the second story-- these are the same Hops used in beer-making, also used by Herbalists as a sedating tea or tincture:


Yum yum... yes, I do kvetch about wrestling with Blackberry vines, but you'll never hear me complain about the berries! Every flower means a juicy purple fruit, and more water means more flowers; so I've been taking advantage of our free well water and keeping these FULLY hydrated!


Some of you might remember my love affair with Vitex. But did you know that I am growing my very own plant, just to increase the bonding experience? I'm actually surprised how high she's grown this year-- she's already a miniature tree! Here are her tops-- and I think we'll have flowers this year!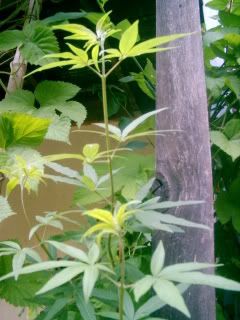 This is beautiful Clary Sage, whose scent has been revered for thousands of years. Her essential oil is used to help balance female hormones, and to "clear" energy and skin (hence the name, "Clary") This is my first time growing her and I am just delighted by her psychedelic flower formations!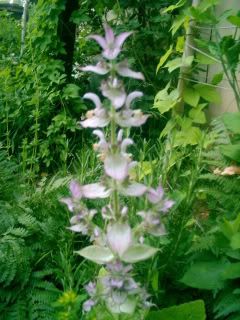 Elder is considered "The Queen of the Garden" and has been particularly sacred to Europeans and Native Americans alike since the dawn of humankind. I gathered seeds from my local Elder last summer and they took off amazingly well--- I am keeping her in pots because I can't bear to sacrifice her to those hungry deer! Her berries are gaining a lot of fame these days for their strong anti-viral and immune system-stimulating properties, useful in the fight against influenza and conditions seated deep in the lungs.

An Old Wive's recipe for sweating out the flu calls for equal parts Yarrow, Elder, and Peppermint, made into a hot tea and drunk beneath a pile of blankets. The idea is to crank up the heat and drive out the poison! Do this when you feel the very first sign of a funky flu... like anything, the sooner you hit it, the more effective it will be.

Who knows what happened way back in my family line--- a dangerous influenza may well have threatened my great great great grandmother, and it may have been Elder that saved her life. I always make sure to give proper respect to all the Elder trees I meet!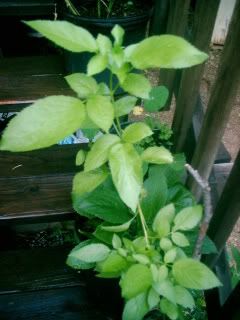 Lastly, another seasonally appropriate plant-- Foxglove, or Fairy Hat, a favorite of the Little People and the star of many a magic spell. The Fairies are supposed to come out for a mischievous romp on Midsummer's Night/Summer Solstice-- think Shakespeare!-- and they may very well be wearing Foxglove headgear. Called Digitalis in Latin, Foxglove is the source of some very strong heart medications. Only very skilled and knowledgeable Herbalists play with the plant itself! I'm happy just to enjoy her magic...


Well, it's been quite a tour! ZouZou is resting on the lanai. I wish you all the happiest of Midsummers-- may you laugh until you fall down, may you dance until you are satisfied, and your cup overfloweth like a river of honey! And when you've got that love and joy in your heart, spread it all around!!!

xoxox

Sasha