The wildfires continue to burn in California, and the smoke is not letting up one bit. Like everyone else, I've been avoiding the out-of-doors, and exercise, and to tell the truth I'm not feeling too badly on the Respiration front. Yesterday, however, we were passing a breath-test gadget around work, and I blew into it as hard as I could, only to score a pitiful 250. Apparently some three year olds are do better then me-- I am, technically, asthmatic! What a surprise. I know that my lungs are my constitutional "weak link"-- I had more bouts of croup and bronchitis as a child than I can count-- and ever since moving from the fresh ocean air of the San Francisco Bay Area to the hot, dry, pollen-y (in spring), polluted (by ozone in the summer, which travels up from the cities below us and sits in the bowl of our valley) climate of Grass Valley, I have had a hard time with my lungs.

Singing helps, avoiding irritants helps, and of course HERBS help. Herbs helped a lot this allergy season; though by pollen count standards it was a real douzy, it was my easiest one yet. Of course I worked hard, starting in February-- I did a blood test for food allergies, which resulted in removing eggs entirely from my diet, along with most dairy and wheat, for good measure. I drank nettle infusion daily, kept up good exercise habits, and started juicing and eating bitter greens like a mad rabbit when spring actually hit. I also took a very special tincture from fall through spring: homemade Mullein and Yerba Santa. Both of these herbs are famous lung allies, and both grow in abundance in Grass Valley. I still have a little tincture left, which I'm going to use up now. Here it is next to a second year Mullein-- you can see the flower stalk forming at the top. For medicine, the leaves of the first year (non-flowering) Mullein are used. Mullein is considered a lung tonic for long-term use. Since we are in an acutely smoky situation, I am glad I have paired it with Yerba Santa, which seems to work more quickly. Yerba Santa has been described in literature as being specific for damp and cold lung conditions, but it has worked well for my friends of all constitutions and lung complaints thus far. That said, people who run hot by nature may want to try it with caution at first! (And if anyone has any more specific experience with Yerba Santa I'd LOVE to hear it!) Here's that friend Mullein: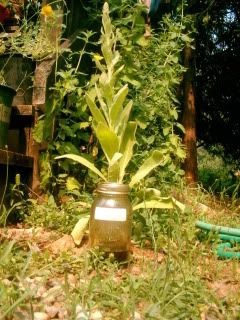 By the way, someone reminded me that I ought to mention California's "other" Elder, the Pacific Coast Red Elder, or Sambucus callicarpa. This Elder has red berries and is widely thought to be toxic, though anecdotal evidence may suggest otherwise. (Apparently several jams of Red Elder jam were consumed with nary a stomachache resulting from the accident, but this may have been someone with an ironclad tummy, or they may have been mistaken!) In any case, don't fool around with it, or make medicine from this variety! If you've got the Elder with dusky, blue-black berries (Sambucus cerulea in California), you're on the right track-- and most likely this is the Elder that lives in your neighborhood, unless you're in certain isolated pockets of California or are associating with a tree planted for ornamental value. If it is just in flower, and you've never seen the berry, best not to experiment until you can gather more evidence. There, I've fulfilled my civic duty! Here is that Elderflower from our local tree, drying and getting ready to become a cup of tea tonight:


Ooo! Guess who got that Comfrey again? (Hint- they are big. They are brown. They move by night.)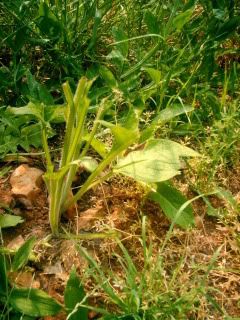 That's okay- I was ready for those deer this year-- I planted a backup on my porch! You've heard of backing up files on the computer-- well, in the land of no deer fence, we have to back up our medicine, too...

By the way, there is a new and lovely post about Comfrey by the Southwestern Herbalist Kiva Rose. You'll fall in love with her!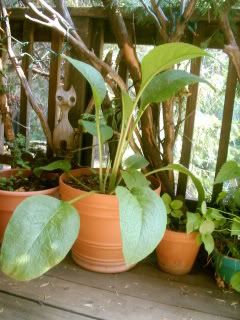 Also on my porch (from front to back): that's two baby Hawthorne trees, Mugwort, and Burdock. Deer hate climbing stairs!: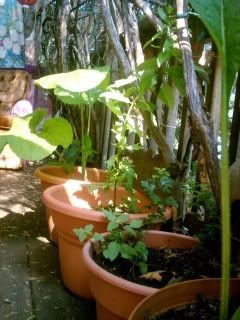 This colorful sunscreen is decorative, but also a function of economy: shadecloth is thirty dollars a roll at the hardware store, and this fabric from a yard sales was twenty-five cents! This is my Lemon Verbena (yum!) and Elders intertwining. I put some of my Elders in the full sun, some in the shade, to see which they like better.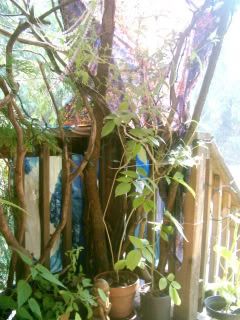 You gotta have one of these guys somewhere in your garden! (Did I mention I'm Irish?):


More beauty every day-- here is a Rose Geranium flower. Rose Geranium is used, among other things, as a bug repellent. It's the best smelling bug-repellent out there, for sure!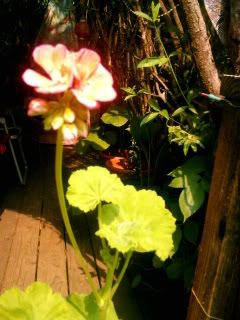 California Poppy-- our State Flower!-- and one of my favorites. Besides being one of the coolest delicate-yet-tough flowers out there (I admit it, I kind of think of it as my mascot, as a delicate-yet-tough California native myself!) it is a supreme nervine... and it's safe and effective for kids. It's especially effective in those cases of over-excited mind, exhausted body. Sound familiar, toddler parents?


Another case of "now what did I plant here?" It looks like I am just about to find out! It's kind of like waiting for a Christmas present to open itself...


That Self Heal is really starting to do it's thing here:


And finally my beautiful Nasturtiums, come in at last. These are naturalized in the Bay Area, and you couldn't get rid of them in your yard there if you tried. Here it is a little more challenging to grow them, as the profuse seeds don't seem to overwinter outdoors. But they will grow from seed in spring with no trouble at all-- a child could grow them, easily. They are deliciously spicy in salads (leaves and flowers) and I just learned from an old French Herbal that they are used topically to increase the growth of hair on your head-- even to cure baldness! Could it be true? I am wonderfully vain and I will be giving this a try ASAP! Meanwhile aren't they just sooooo delightfully vibrant?


Vibrantly Yours,

Sasha