One of the particular blessings of Nevada County, California, is our amazing community of herby-minded folk. This Saturday a friend invited Amber and I to come and make medicine from her fabulous garden. And when I say fabulous... dearest readers, I do not exaggerate!:


Now that we are all twitching with jealousy, let me reassure you that Jaime, the mistress of this garden, fully deserves this blessing. She has one of the biggest hearts in Nevada City-- she's the kind of groovy lady that always gives you a hug when you see her, and colicky babies coo and giggle in her arms. You just know the kind of woman I am talking about! Here she is with a portion of the bounty: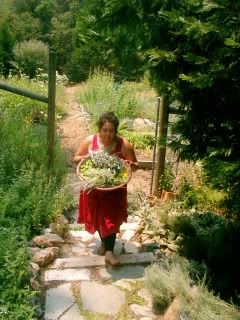 Here are some pretty pictures to whet your appetite, starting with our friend Borage. You may know the old herbalist's ryhme, "Borage for Courage"! This is a trick to remember that Borage flowers, energetically speaking, lift up and strengthen the heart, readying it for the daring feats of courage required in everyday life. On the physical level, they tone the adrenal glands; aid in treatment for depression; and are used in diaphoretic (sweat-inducing) teas to break fevers. Borage flowers are also used for increasing mother's milk, and in some PMS formulas. More often they end up as delicious edible flowers (make sure the fuzzy part stays behind!) in summer salads and drinks. These babies are small and sweet, and if you have the patience to gather enough for a really significant amount of medicine, I applaud you! As for me, I usually just eat my fill right there in the garden... but I AM part goat, after all.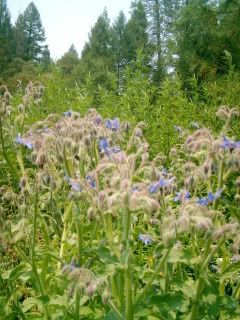 Vites, getting ready to flower! See my detailed post about Vitex here...


A genuine Fairy Garden, indeed: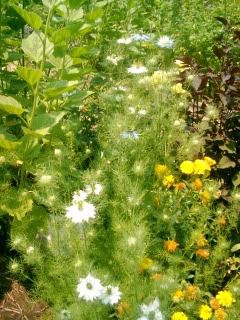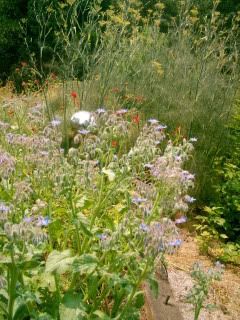 Amber, hard at work harvesting: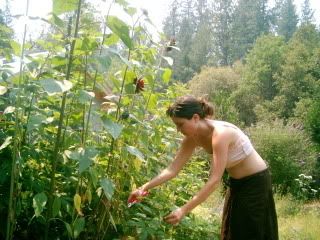 You wonder how I could concentrate at all! Everything seemed to be calling to me on this sunny July day. First of all, this wall of Hops stopped me in my tracks: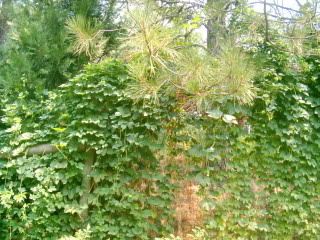 We learned that these are a very special variety of Hops, dearly beloved in German beer brewing for purposes of flavor and aroma. Now I must apologize to the Alewives among you, I didn't write down their (German) name! Maybe that's because I was in a heady stupor from handling these sweet green flowers. They were in full perfect bloom and potent.. whew! ...potent.


Hops are used for-- maybe you have guessed this already-- relaxation. Tea or tincture works great internally, and Amber loves to use an infused oil of Hops on her toddler in the evening, and for pain relief. And yes, part of that beer buzz may be more than just the alcohol! If there's Hops in your brewskie, you are feeling her soporific effects.



Honestly, this is the first year I have really connected with Hops. I was inspired to pick and pick and pick until we had nearly a half of a grocery bag full. When no one was listening (very important!) I made up a medicine song for Hops, which goes something like this:



We are the ones who send you off to sleep
Life is uncertain, but this promise we will keep
For when you sleep, you are made anew
And when you dream, all good magic comes to you.

I look forward to the day when Disney makes an animated movie about a Green Witch. Heck, maybe I'm gonna have to make it myself!


(The shoe is NOT part of the medicine, by the way.)

Now I was pretty well looped after 45 minutes of handling sleepy Hoppy flowers, but I had another mission: the gorgeous Red Raspberry leaves. A traditional tonic during pregnancy, Red Raspberry is said to "strengthen" and "soften" the womb, making for an easy delivery. If you don't believe me, ask any Mamma who had one pregnancy WITH Red Raspberry, and one WITHOUT. The "Old Wives" passed this one down and it's a goodie!



Now I'm not on that baby train , and I admit that I may have ignored Red Raspberry because I considered her part of the whole pregnancy matrix. But standing in Jaime's garden, I had a "duh" moment. I'd done an herbal tarot reading the day before, and gotten Red Raspberry. Playfulness, Creativity, the Inner Child. The womb is nothing less than the center of our creativity, whether you've got a bun in the oven or not. Duh. I am having a creative Renaissance-- devouring Fantasy literature; writing down my (very vivid) dreams every morning; nurturing the seeds of my business (a vision forming from the ether, somehow involving herbs, writing, and this good old Interweb)-- Duh!



I love you, Duh. (:


I finished off my harvest with Strawberry leaves. I decided to combine them with the Raspberry on a kind of hunch... I have often heard of their value as a mild tummy tea; as a vitamin C-rich infusion; and as a topical treatment for irritated skin... but occasionally one does read that Strawberry leaf is used as Woman's medicine. VERY occasionally, but... I was feeling their call!


So what does a medicine-making party look like? Well, luckily, Jaime has a really wide countertop!:


I hereby give you all permission to clutter things up and make a royal mess!
Happy hands at work:


Smudge stick by Jaime, woven with Lavender, Mugwort, Helichrysum, and love:


Amber does quick work! Here are some of her concoctions: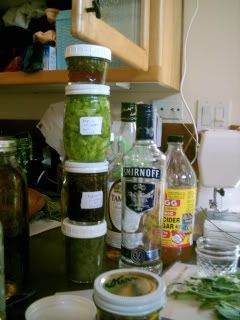 On the way over to the party, I passed a liquor store, and was inspired to stop and buy a bottle of Bombay Sapphire Gin. When I do have an "adult beverage", this is my drink of choice. Once upon a time, it was actually a medicine, and the herbs that are in it (today, in trace amounts) are embossed on the side of the bottle! I was hoping I would find a plant that called to me to make a Gin extract. It turned out that my nose loved the smell of the Hops with Juniper-y tartness of the Gin. And I love it SO much, in fact, that I keep popping open my mason jar every night to take a little spoonful... so much for waiting a month for the medicine to "put up". But I'm sure the Gin has already extracted a lot of goodness from the Hops, and at least it's being used! Irresistible!



I dried a good amount of the Red Raspberry and Strawberry leaves for use in infusion... in fact, they're ready to go. Things dry really fast in our low-humidity climate-- that means both Herbs AND my Celtic skin-- but you can't have it all!



Lastly, I made a Women's Blend using some Damiana and Peach-infused brandy as the menstrum ("menstrum"= the liquid you tincture your herbs in). This had been languishing, unused, in my fridge-- I'd always felt like this potion needed an extra dimension. Well, the magical garden provided it! I filled the jar with Red Raspberry Leaf, Mugwort, and Lavender, to make a tincture that will

A. Get You In League With The Moon (Mugwort),
B. Get You In The Mood (Damiana),
C. Smell Divine (Lavender),
and D. Taste Sassy (peaches and brandy).

...I can't wait til the flavors and magics marry...!



Thanks to Jaime, for sharing her herb harvest with us! And thanks to Nature, the Artful Lady who makes it very easy to take good pictures:


STOP THE PRESSES: This just in from Yahoo news!:



AP - Pope Benedict XVI says the world's natural resources are being squandered by "insatiable" consumption and urges people to care more for the environment.



I never thought I'd see the day! Makes me think of the Dar Williams song about the Christians and the Pagans sitting down to Solstice/Christmas dinner together. (Tears. I'm a sucker.) And on that hopeful note...



xoxoxo



Sasha