All week long I have been hearing "St. John's Wort" on everyone's lips. Folks at lower elevations have already put their medicine up, and proudly tell me "we'll be happy at our house all winter!" and "my fingers were stained red for three days!"



Well today the moon is almost new (I like to make medicine on the waxing moon, or as close as possible) and the St. John's Wort in shady Frog Holler is at a perfect stage for harvest: about one third in bloom, two thirds in bud. Yum! Now I don't have a ton of this sunny herb in my garden, but I have about ten times more than I did when I moved in. I attribute that to good watering, weeding, and focusing my love and attention on the St. John's plant community-- plants really respond well when someone cares about them!



There is another patch of St. John's on the property, and after I've taken my harvest from my garden, me and Zouzou go on a short journey through the woods to check it out:


Passing through the "gate" of Elder to get to our destination:


Here it is... we call it, fondly, "St. John's Meadow":


And here's why: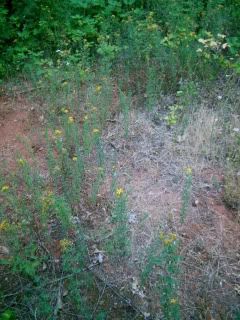 They're not getting nearly as much water as my St. John's in the garden, so they are shorter and tend to be single-stemmed instead of bushy. But since they have to fight a little harder to survive, their medicine is sure to be strong!


I cut the flower tops and about an inch of the stem. St. John's spreads mainly by it's root system, but I always leave at least half of the flowers to go to seed, and for the bees to enjoy:


I cut the plant material up right inside the jar, for convenience-- and also because my hubby is busy in the kitchen at this moment!: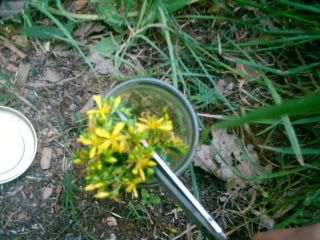 As I harvest, I make up a little song for the St. John's. In the past I've tried offering medicine plants gifts of tobacco, cookies, and locks of hair, but a song works best of all for me to connect with the plant, and with its purpose. First I sit with the St. John's for a few minutes, tuning into my task and into the spirit of the herb. I realize that as I sit in my garden, easy and free in shorts and t-shirt in the 80 degree evening light, I am full to the brim with glorious Summer. Though my week has thus far traversed the full gamut of emotion-- and I wouldn't say it was all good!-- I am still just bursting with the feeling of endless possibilities and expansive horizons. THIS is what I will be capturing in my mason jar, and this is the true spirit of this special plant of mid-summer. Hence the song:



Saint John's of the Summertime
Keep me warm when winter is nigh
Keep me sunny, keep me bright
When the tide of darkness is high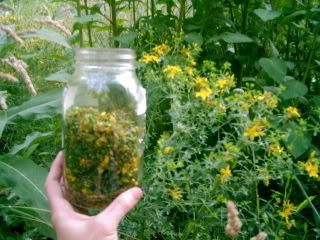 I use the "folk method" of tincture making today, so when the jar is completely full of plant matter-- gently packed down, but not stuffed-- I fill it with water and alcohol. Since flowers and leaves break down fairly easily in alcohol, I don't need much. I use 70 percent water, which I add first, and measure by eyeballing the level in the jar:


My preferred alcohol is in that bottle beside the mason jar. It's organic grape alcohol from Alchemical Solutions in Ashland, Oregon, and it tastes so so fine! Now watch what happens when I pour in the alcohol:


Yes, it's turning deep red! That's the medicine, the hypericum, and it makes me very happy to see that I've timed my harvest just right!: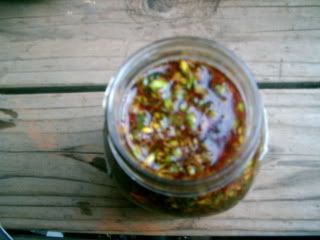 Now I label my jar with the plant, the date, and where the sun and moon are at astrologically (both in Cancer!), and wait a moon cycle to strain... oh, it feels so good to prepare for a dimly imagined winter during the height of summer, eating grapes and cherries and walking around in sandals all day. I'll leave you with some shots from the garden:



Feverfew!:


Lovely Lemon Balm:


Nettle in flower: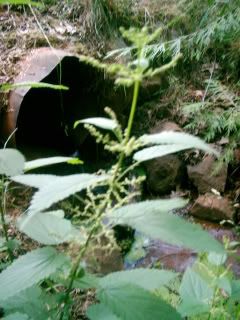 Beauty, Beauty, everywhere I look!:


...and one last "firework" (for "Inter-dependence" Day)!!!