"If they would eat nettles in March, and Mugwort in May, so many fine maidens would not go to the clay"
- the Funeral Song of a Scottish Mermaid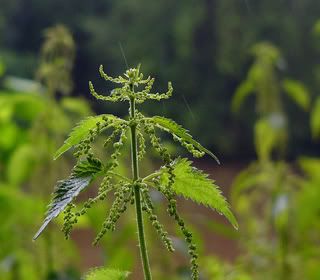 The longer I live, the more I appreciate the loyal, steady-hearted friends who have stuck with me through thick and thin. At times I have taken this love for granted, only picking up the telephone during a Crisis of the Soul. But when I put energy into maintaining a consistent connection with my friends, my emotional life runs much smoother, and these moments of high drama are often avoided altogether.



Plant friends are a lot like people friends. Get to know them, hang out with them on a regular basis, and they will enrich your life in ways you never thought possible. They can help with minor complaints, and may help you avoid much bigger and nastier health issues in the long run.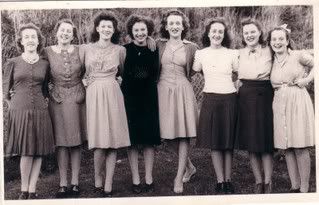 Stinging Nettle (Urtica Dioica) is one friend who has never let me down. She's a common weed, growing in abandoned lots and rubbish piles in the city, hiding behind abandoned barns in the country. She sounds like a real vagrant, doesn't she? Fittingly, she has a reputation for stinging the bumbling woods-crasher; but if handled with care she won't do any harm.


The two sides of Nettle make her an interesting medicine. I've known more than a few human friends who are wide open to life, trusting and loving the whole universe, yet who have absolutely no sense of boundaries. Despite their best intentions, they end up in an endless series of energy-sucking relationships and situations. None of us wants to lose a child-like sense of wonder and possibility, but as grown people in a wacky world, we feel the need to have some armor on hand for those sticky moments.


Nettle makes us open up to life and our senses, but because she doesn't take any crap, she also imparts a vital sense of self-protection. She can be a light and lively soul, her deep green leaves and tiny flowers dancing in the spring breeze. She loves to share her sassy, buzzing energy, lighting up your aura and giving you a swing in your step. But you can also come to her, frustrated and humorless, and she will be a fierce mother. Bring her your deep fatigue; your upset stomach; your itching, scaling skin; your bleeding ulcer, and your kidney stones; she is specially equipped to help.



Nettle belongs in the wonderful class of herbs called "Tonics". Tonics are known as "building" herbs, because they are deeply nourishing. They do not mask any of the imbalances in our body, but work on healing us from the core outwards. People who take tonics faithfully find relief from acute and chronic health problems, and don't have to spend as much money on expensive vitamins and mineral supplements.



Science is impressed with Nettles, as are people around the world who have experienced crop failures, wars, or economic collapse, and have had to turn to wild foods for nourishment: they are are rich in vitamins, trace minerals, amino acids, and have the highest protein content of any native plant.


As a medicine plant, Nettle is multi-talented, and her good reputation is built on thousands of years of successful treatment of the skin, lungs, adrenals, digestive system, and the kidneys. In fact the "Urtica" in her name comes from the Greek word for urine- the Greeks loved her for treating kidney stones.



She helps to remove uric acid wastes from the tissues, and seems to slow the breakdown of proteins into the bloodstream. A build-up of excess uric acid and large protein molecules in the body is the equivalent of a garbage strike in a large city, and the associated chaos takes the form of inflammation and allergic reactions such as gout, eczema, psoriasis, and hay fever. If you suffer from any of these irritating conditions, Nettle can be an amazing ally for you.



She also is a favorite for pregnant and nursing women. Recently I sent out a call to the new mothers in my life, on behalf of a friend who felt her baby was underweight. The universal recommendation for increasing the quantity and quality of breast milk? Nettles.


Modern Herbalists rely on her to maintain strong bones and strong constitutions into their elder years. For those of us in the prime of our lives, the steady, reliable energy that she provides can make it possible to make the switch from harsh stimulants like coffee and tea, without losing any of our mojo.



If you already enjoy perfect health, Nettles will appeal to your vanity-- she is famous for giving gorgeous, thick hair and a beautiful complexion. She has been relied on by generations of natural beauties, who thank her for the blush in their cheeks and the twinkle in their eye.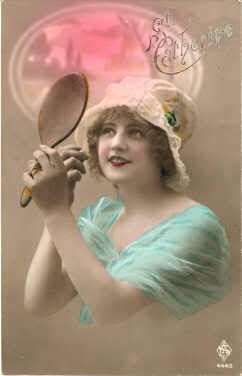 As with any friendship, consistency is the key to building and maintaining a relationship with a plant ally. The nice thing about Nettle is that she loves to hang out in the kitchen, one of my favorite places. (Surely even the most urban among you are in there at least once a day!) You could take her in tincture or capsule form, but what fun is that? Nettle tastes good, and you can almost certainly find her in the bulk dried herb section of your local health food store, so go ahead and give her a try...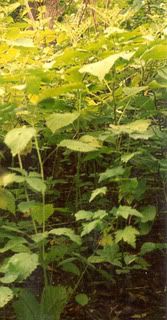 In The Kitchen

I always have a jar of dried, powdered Nettle by the stove. (I use a coffee grinder that I set aside especially for powdering herbs.) Nettle is great this way as an addition to pasta sauce, soup, and any kind of casserole or stew. Because she has a neutral flavor (think parsley), you can pull one over on a finicky spouse, child, or dinner guest.


If you have access to fresh Nettle, the young (pre-flowering) tops and tender leaves are fabulous steamed with butter and salt, or used in lasagna or any other situation that may have called for spinach. If you have already stretched your paycheck til it broke, a patch of Nettles can save you from starving-- it did the trick for me many times!



Drinking an herbal infusion is my favorite way to get my Nettles. It can take a few days or weeks to get used to the strong green taste, but it is one of those things that your body will start to ask for as your palette becomes accustomed to the nuances of your deep green friend.



A little forethought is required to make an infusion, but you will be well rewarded for your efforts. Since I always have a cup of calming tea before bed, I have made the Nettles preparation part of my nightly ritual.



I have a wide-mouth 24 ounce mason jar, which is a handy size, but any glass jar will do. I put in a few good handfuls (or about 3/4 of a cup) of dried Nettle and fill the jar about halfway with just-boiled water. Then I stir the herbs up a bit, to make sure the water soaks them thoroughly, and cover with the lid but DON'T screw it on, because as the water cools it will create a vacuume and be hard to get the lid off in the morning!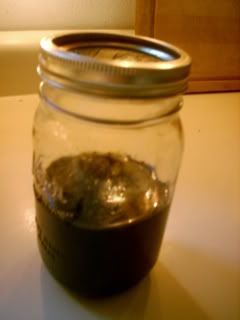 When you wake up and are ready for your brew, you'll want a strainer on hand. I like a generous-sized wire mesh strainer, since they don't cost more than a few bucks and come in handy for all sorts of weird cooking emergencies. A sturdy strainer can also take a bit of mashing, which is necessary since you'll be pressing the soaked plant material into it to get out every last drop.


(Note-- If the weather is warm, Nettles can go "off" quickly. Where I live, nights are usually cool, except during a summer heatwave, and my Nettles are okay if I strain them first thing in the morning. If you live in a humid climate, you might want to put them in the fridge overnight.)



You can drink your infusion straight, warmed up or cold, or add anything you like to make it fun and palatable. A favorite combo is the mix of Nettle with some kind of milk and a healthy sweetener.



Lately, I have found a way to enjoy my Nettle and get a good boost of protein in the morning: Nettle infusion with vanilla hemp milk, hemp protein powder, and a banana for the extra Creamy Yum factor. Let me demonstrate: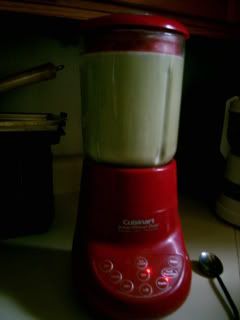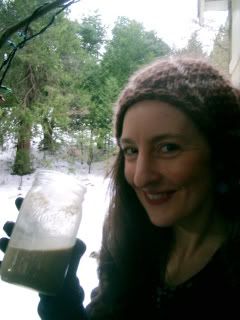 By the way, you don't need to throw your squeezed-out Nettle mash in the garbage-- put it right in the garden or in your outdoor potted plants. Nettle is fantastic compost!



I hope you have fun making a new friend in Nettle. I know you are going to get along just famously!