I wrote the following post about Vervain for this month's Blog Party on the topic of Bitters, hosted by Kiva Rose at
The Medicine Woman's Roots!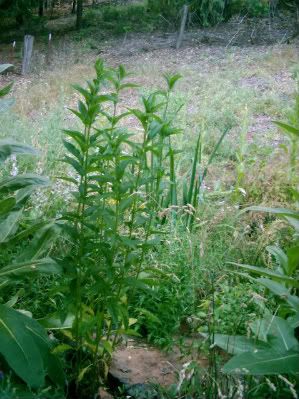 Vervain, sweetest among the Bitters. Vervain, who starts out green on the palette, yet leaves an aftertaste so sharp that all of my juices erupt like Dancing Fountains, and my liver revs to life like a Harley Davidson. Vervain, so unassuming in appearance, but with a reputation nothing short of Illustrious in Herbal and Magical lore.



Vervain, with whom I once sat on a stony hillside, pleading for Nature to please reveal herself to me in a ridiculously obvious way: shimmering auras, pixies swinging from willow branches, and voices of my ancestors chanting instructions in Dolby Surround Sound. Vervain, who waited patiently until the tide of my desperation ebbed low again, leaving a silence in which she could be heard:



Pick up your pen.



I'd brought my notebook to the hills, intending to do a plant meditation and jot down my Deep and Meaningful notes afterwards. Unfortunately, all that the peaceful silence was doing was making me crazy. Why couldn't I be one of those subtle, psychic girls who says "Om" and just *poof!* disappears through a gauzy curtain to the realm of the Plant Spirits? When I closed my eyes, all I could think of was lyrics to pop songs, my grocery list, my bank balance.



Pick up your pen.

Writing? But wasn't that cheating? Giving free rein to my hyper-active mind, the endless chatter that clearly needed a gag and a straight jacket... but what harm could it do, anyway? The "meditation" was hopeless.



I picked up my pen.



And I imagined that the Mugwort in the dry riverbed began to hum. I imagined that the Oak trees sang to the grasses, the beetles to the birds. I imagined that the light had began to shift, oh-so-subtly, glimmering silver on the landscape.



Ah, but when I looked up from my notebook, it was true. No, the poppies weren't pirouetting like cartoon stars in Fantasia's Waltz of the Flowers, but a door had opened just- a-- crack, so that I could see the plants around me for what they really were. Magic.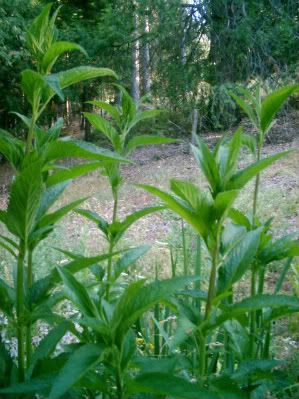 Vervain is known as the Druid's Herb, the Poet's Herb, and the Witch's Herb, depending who you ask. The Celts used her for protection during rituals. Neo-Pagans use her for protection in their car-- especially if they don't have insurance! Druids were said to drink a tea of Vervain to bring forth the muse of poetry and song. Romans left offerings of her on their altars to their Goddess Venus. Single New Age ladies bathe in her in order to attract and secure a mate. Witches of old made sure there was a heaping dose of Vervain in their flying ointment. (How else is that broom supposed to get airborne?) She's even supposed to ward off Vampires.



Vervain gets around.



Like so many helpful herbs, Vervain is bitter. Not immediately, arrestingly so, like Gentian or Yarrow. In fact, she even starts out a little sweet. But try to hide her in tea, and you can't do it. Sugar or honey only makes the deception more obvious.



Bitter functions as a warning in nature, a Threshold-Cross-Not. Bitter is an initiator. Bitter gets bile flowing, loosens thoughts. Bitter stops us in our tracks, sharpens us, prepares us for a smorgasbord of the senses.



Too much sweet, anywhere in life, can be smothering. Thank god, in a crowd of pillowy Yes people, for the acerbic wit that slices through the treacle, the carefully placed sarcastic comment that lets the fresh air back into the room. Thank God, in 24-Hour Pancake and Ice Cream Sundae America, for the sprig of parsley on the side of the plate.



Vervain is an antidote to suffocating, cloying states of both Mind and Body. She is specific for looping thoughts, the specialty of insomniacs and worrywarts from Guam to Kathmandu. She is also used as a bitter tonic, long-term, for heated and congested livers.



Now you weren't going to forget about your liver, were you? (That six pack of Bud and the deep-fried Twinkie at the Fair were just temporary insanity, I know!) A massive organ with a mammoth to-do list, when our liver gets overwhelmed and irritable, our mental outlook begins to reflect the same. Vervain works-- over time-- to cool things off and get things moving, putting the spring back in our step and lightening our load both physically and emotionally.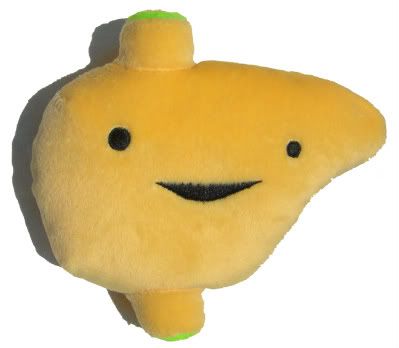 (Yes, the above image is, in fact, a plush liver! This and other organs are available at iheartguts.com!)



You can dream with Vervain, trance with her, attract love, and Goddess only knows what else. (meteorite dust?) Energetically speaking, you want to be careful with Vervain (or any bitter) if you already run too cool, or you are naturally dried- or spaced-out. A little goes a long way! Vervain is one cool lady, but remember that she's more about the Ether than the Dirt. Grounding is not her specialty!



In Northern California, where I first met her, Vervain (Verbena hastata) is an unassuming plant, a few feet high at most, with the silver-green leaves typical of Natives who must endure the rainless summers. Her tall, sturdy European cousin (Verbena officinalis) is much taller and sturdier built, but they share one salient feature: their enchanting spires of purple flowers. If you happen to rendez-vous at twilight, staring at these miniature purple candelabras can put you in a trance.



In my garden, I am lucky to have both kinds of Vervain, but I am still waiting for those fantastic flowers to come in. The European variety is the superstar of these photos. I planted her by some of my favorite sitting stones, so we get to spend have a lot of time together, watching the stream, dreaming, and imagining. I have been compelled to make tons of tincture from her juicy leaves, so she will be with me all winter long, when dusky-magic summer twilights are but a memory.



Vervain, sweetest among the Bitters. I'm glad to know you, and glad to introduce you to the next generation of eager dreamers!