Extra! Extra! Read All About It!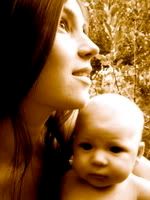 My #1 Herbal Buddy Amber has started her own Official Blog, Nourished Mother. (She used to blog exclusively on Myspace, but that wasn't nearly as accessible!) There are so many reasons you will want to check out her beautiful new blog, not the least of which is her fascinating story about her unassisted (that's right, not even with a midwife) homebirth.

She is also an amazing herbalist, deep thinker, and of course the first person I would turn to for a question about conscious parenting. Check it out and tell all your mamma friends!