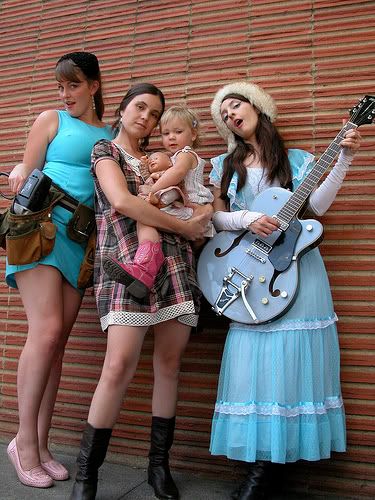 Girls doin' it for themselves at the Ladyfest Publicity photo shoot: Sarah Jane Ely, Amber Magnolia Hill, daughter Mycelia, and me. Photo by Sarah Bridges.
Well, I warned you... I have been swallowed (alive!) by Ladyfest Nevada County. (Coming up Saturday October 4th!) For a girl who has never organized a big event in her life (my wedding almost sent me over the edge, and my mom did almost all of the work on that one!) it is amazing to me to see what I have accomplished. Myself and ONE other woman have wrangled together two dozen incredible workshop leaders, eight amazing performers, wooed the radio and newspaper press from here to Sacramento, and we've planned it all to go down at the swankiest venue in town. Heck, we even got them to donate the space!

Naturally Ladyfest Nevada County had to have a special blog, put together by yours truly. I think you'll enjoy this even if you don't live in Nevada County-- I did really interesting and inspiring interviews with all of our workshop leaders and performers! My friend called it "The People magazine of Nevada County". But of course it's pure gold, not pure trash (unless we're talking recycling). I've posted twenty in one week (really! now you'll excuse me for not hanging out on Kitchenwitch lately!) and more are coming.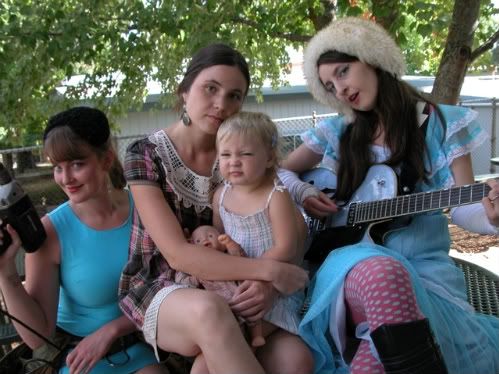 You Herbsters out there will be interested to know that we have awesome workshops on Aromatherapy for the Spirit and Lotion Making De-Mystified. Oh me oh my, we have SO many good workshops, you really ought to peek at our titillating Workshop Schedule here!

Alright, I gotta go to bed, so here's wishing a happy harvest to all of you. And if you're in town on Saturday October 4th... I wanna see your face at Ladyfest!

xoxox

Sasha