Late August and early September is Visitor Time when you live in a place with a gorgeous swimming river. As summer winds down, everyone has to get their last blast of sun and water and general lollygagging. Guests are a great excuse for me to shirk my usual responsibilities (including, ahem, this blog...) and just Chill Out-- especially when they have kids, since it is hopeless to impose adult schedules and priorities on little people. This kind of time-out-of-time is a medicine of its own, I found:



Armelle and her daughter Anna-Nina, visiting from the eternally damp state of Oregon:

 
Anna and her inflatable hippo, enjoying the Yuba River:
Auntie Sasha, Anna, and a Magic Wand (also known as a Stick to the less imaginative):
Inbar, Jesse, and their son Ben visiting from foggy San Francisco: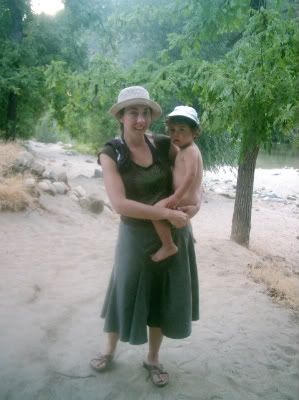 Ben's glamor shot-- he reminds me of a Bollywood hunk:
After two glorious weekends in a row of sand in my bathing suit and meals of figs and goat cheese, well, I started to forget about my to-do list. Luckily, when the third weekend came around, I remembered that I already had plans to hang with my friend Nacoa. She lives in the same county as I do, but somehow in my whirlwind life I never get to see enough of her! We spent the entire day at Purdon's Crossing, taking a tour of the different swimming holes:


That's me in there!:
There's still another week or two of swimming, but as the river temp drops with the cooler nights, it's quickly becoming more like "dipping" then "soaking". I hate to see summer go, and along with it our parade of wonderful and inspiring guests, but... there is work to be done.



I won't be blogging as much as usual for the next three weeks, since I am co-organizing a big event locally: Ladyfest Nevada County!


Here's the low-down: 25 Workshops all day long, with something for Every Lady: Self-Defense, Greening Your Life, Networking Basics, Aromatherapy, Lotion-Making, African Dance, Breast Cancer Prevention, Creative Writing, Jewelry Making, Clothing Design, Yoga, Contact Improv, Cooking with Local Foods, and more! Then a huge concert at night featuring the best and brightest local and regional women musicians: Agent Ribbons, Ricky Berger, Uni and her Ukulele, Sasha and the Shamrocks (yup! That's me!), MaMuse, Coal Beautiere, BEESHARQ, and more!



Click over to The Center for the Arts for more info or to purchase tickets... and if you are on Myspace add Ladyfest here. I am making a special blog to showcase interviews with the performers and workshop presenters-- I will put the link up here when it is launched. These are all such fascinating ladies, I think you'll love getting to know more about them!



Hope you all are having a good change of the seasons... meanwhile I leave you with soft-serve memories....



xoxox



Sasha