I admit it, I am showing off: my Mulleins are the biggest around! (insert bad joke here...) That's level ground right there, which makes the Mullein several feet above my head! (And I'm 5 foot 8!)



Speaking of lung herbs (I've got some fast segue ways today, eh!)-- the smoke left Nevada County for three blissful days, only to come poking its head around again this afternoon. Yech! Luckily I've been making up some very potent lung medicine-- my friend Grindelia, or Gumweed, is in full bloom.



Grindelia likes to grow in--well, CRAPPY is the word for it-- soil. The more disturbed, rocky, neglected, the better! You can get a good idea from this picture here what Grindelia considers a happy home-- she's growing in the triangular patch in the middle!:


This tough herb is best harvested on a scorching summer day, when the centers of her yellow flowers are filled with a gooey, sticky substance that is only slightly less tacky than sap. Grindelia's medicine is easy to remember, because if you get sick and end up with lungs that are filled with stringy, sticky, gooey stuff that's hard to cough up, she is the plant ally you want to turn to! Kind of gross, I know, but you won't forget her now... (And I should add that if your lungs are filled with yellow or green stuff, you better get your butt to a professional STAT!)



Grindelia is a plant that was used by Indigenous North Americans, in a typically multi-dimensional fashion. According to my teacher Karyn Sanders (a Native Choctaw) of The Blue Otter School of Herbal Medicine, Grindelia has applications not just for lung issues, but for various problems of the urinary tract and the nervous system. It is also a popular ingredient in topical Poison Oak remedies, where it is used for its drawing and drying qualities.


Thick, resinous material like the goo in these flower heads doesn't break down in water, so I used nearly full-strength 190 proof organic grape alcohol as my menstrum. (Now I will reveal the embarrassing fact that I desperately need to get more mason jars, by showing you my medicine in a jar that has already lived at LEAST three lives. Give me points for conserving resources, at least!)


Isn't that a gorgeous color??? I am excited to make a combo of Grindelia, Mullein, and Yerba Santa. I wonder what my fourth herb will be? Making formulas is so exciting! There is always a high demand for my lung medicine in the fall and winter, and I love the feeling that this medicine will be making its way into many grateful hands. Speaking of grateful hands (ha ha! Another witty segue way! aren't I fresh?) check out the treasure that I'm holding here: yes, it's the one and only Zou Zou!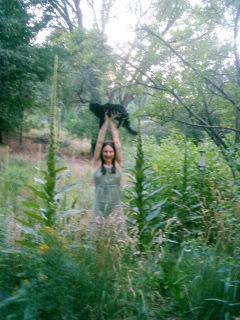 Happy harvesting!



Sasha